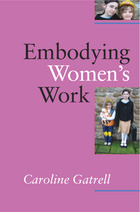 For many mums, juggling work and family can seem like a slog, but new research shows that child-free women may be penalised. Dr Caroline Gatrell is quoted in today's Daily Mail as saying: 'Women who explicitly choose career over kids are often vilified at work and face enormously unjust treatment. Bosses believe they are 'cold, odd and somehow emotionally deficient in an almost dangerous way that leads to them being excluded from promotions that would place them in charge of others'.
In my experience, women without children sometimes feel that they come in second best when it comes to having time off as parents claim time for kid's illnesses, holidays and school events leaving them to cover. Is this another way that childless women are missing out?
To find out more about Dr Gattrell's work, read Embodying Women's Work.