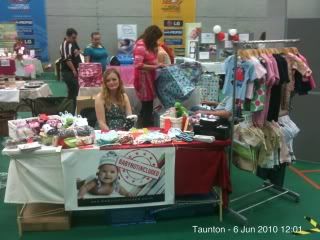 Name of Business:
Baby Not Included
Your Name and Age:
Lisa Jackson, Age 29
Tell us about your family:
I live in Exeter, Devon with my fiancé Chris and our son, Ryan aged eleven.  I am also 31 weeks pregnant.
What did you do before coming up with your business idea?
I still work full-time as a medical secretary as well as running the business.  I started the business off very slowly and have maintained it at a slow pace so that I can run it along side working in an employed job.  Some days it's extremely hard to find the energy to sit in front of the computer and pick up the business work, but majority of times it's a pleasure so doesn't quite feel like working.
When did you launch?
May 2007.
How did you get started?
I read an article about people running businesses in the evening to subsidise their income in a Sunday supplement (which I wish I'd kept).  I've always liked the idea of working for myself as I strongly believe that you get back what you put into something.  This article got me thinking that maybe it was something that was possible for me to do.
What research did you do before launching?
I have to confess that this wasn't my strongest point, but I contacted suppliers and met with a business manager at the bank to discuss things.  I also visited similar sites and boutique baby shops to suss out what the current trends were.  Also having friends with babies and toddlers was a great way of seeing what they bought.  Most of my research went into the production of my website.  As a complete novice to coding and website design this was my biggest stumbling block.
How have you funded the business?
I set up my business account with £250 which bought me enough stock to get up and running.  My first website was with BT which was quite basic, but was enough to get me started.  From there on the business has pretty much paid for itself (with slight help now and again from personal funds).  I didn't want to risk anything by applying for loans in case it didn't work out or I decided that it wasn't for me.
How do you promote your business?  What has worked best?
This is the best part of being home/internet based.  The social networking means that I'm met lots of likeminded women from all over the world that work for themselves, many being mums.  I use twitter a lot which can also be very distracting and you can end up chatting instead, but there's nothing wrong with that now and again.  I have a facebook page and am also a member of some forums, which have been invaluable.  I promote through social networking.  I also have flyers which I have given out at events and distributed to local playgroups and baby groups.  I used Google ads for a while which certainly drove in the traffic, but it didn't increase sales.  I have a blog and have also run competitions which seem to attract quite a few people that went on to be customers.  I recently did an even with the NCT and although sales on the day were slightly disappointing, it brought a lot of customers/sales my way after the event.  Based on that, I would say word of mouth and recommendations seem to be the most fruitful.
What has worked well about your business?
Some people don't like the label mumpreneur, but I like the title.  Mum's like to know that the products that they are buying for their baby/toddler is not only stylish, but practical and worth the money they spend.  In this respect there is a lot of mutual buying from the mumpreneur community which is quite nice, and hopefully they tell their friends.  I think as a group, we tend to help each other out in general whether it be recommending a web designer to potty training tips.
What has been your biggest challenge so far?  How have you dealt with it?
My biggest challenge has been my self-confidence.  I've very much doubted my ability to run my business from the start.  To this day only family and a few friends know that my business exists.  I wasn't sure how my colleagues at work would react to me having my own business, and didn't want my employers to think that I wasn't committed to my job.  I am quite happy to talk openly about my business now, and hope that the website and the products speak for themselves.
How do you fit in work with the family?
I basically work when I can.  Mostly in the evenings, but some weekends as well.  I make sure that any orders go out in a timely manner, and keep up with the other stuff in order of priority.  Saying that, I've burnt a fair few dinners trying to cram in a couple more emails before shutting down the computer.  Chris, my fiancé is very good around the house and takes on a lot of things when he knows that I have a lot of work to do.
What advice would you give to someone else wanting to work in this area?
Go for it!  Work out what you would like to achieve and how you are going to achieve them.  Only do it if you are passionate about it, this way it won't seem like a chore.  Don't expect the money to come rolling in, and expect to put a lot of time and energy into it.

http://www.babynotincluded.co.uk