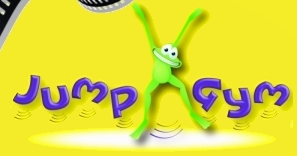 To help kids become fitter in a fun way, Pineapple Leisure Ltd is releasing
the inflatable Jump Gym and offering the chance for local owner operators to
run their own Jump Gym businesses in individual towns throughout the UK.Jump Gym is the brainchild of Sharon Hadley-Ford, mum of two girls. Sharon
was concerned about the decline of school PE lessons and sports days, with
parents proving more reluctant for children to play outdoors than they were
a decade ago. The resulting Jump Gym, designed by the whole Hadley-Ford
family, is a giant inflatable with 12 sports activities built in to encourage jumping, hopping, stretching, climbing, crawling, throwing, and more.
Jump Gym was successfully 'test driven' by the Hadley-Ford girls, aged eight
and 14. Now it is complete and ready to be used UK-wide to provide stimulating sessions at schools, nurseries, sports centres, community centres and village halls, with classes designed for pre-schoolers (3-5 years), juniors (6-8 years) and seniors (9-11 years).
Jump Gym has new operators in Edinburgh, Sunderland and Glasgow who will soon be offering classes. Jump Gym hosts 'Term Time' and 'Holiday Club'
classes so that kids enjoy year-round bouncy workouts that improve their
overall fitness, while also  gaining nutrition advice from the cute mascots
and hand puppets, Francesca and Frederick. A "Hi 5" motto is conveyed to the kids, who are encouraged to eat five daily portions of fruit and vegetables, as well as receiving healthy eating advice, menus and recipes.
Sharon Hadley-Ford says: "Our family has worked on the Jump Gym concept since 2007. It was borne from a desire for my children to attend structured
play sessions instead of hanging around on street corners, eating fish and chips and playing endlessly on phones and computers. Other mums were telling me that their kids were reluctant to be active and eat properly. I wanted to find something the kids really enjoyed that would keep them fit."
She adds: "Thanks to years of experience in the inflatable play industry, I
knew that kids liked to play on inflatables, so we set about designing a fun
inflatable with additional sports activities to engage children with various
forms of aerobic movement. We conducted online research and came up with some 'fresh friends' characters to set the scene on the inflatable – for
example Pierre the French apple will teach the children a few French words
and recipes. A whole series of educational activities is being planned for
the children at Jump Gym, with each activity specific to one of the fresh
characters."

All Jump Gym classes combine a weekly 'Sports Theme' with a weekly 'Fresh
Food', such as 'Skipping and Strawberries'. Each week, a new club recipe is
posted and children are encouraged to go away and eat the healthy food of
the week – for example, strawberries might feature in strawberry smoothie,
strawberry yoghurt or fruit salad – and to record how many days they
practice the sports action of the week, such as skipping. Reward charts are
used at the Jump Gym classes and the kids receive stars for their efforts,
to build their confidence. Older children enjoy active sports themes
involving, for example, tennis, ping pong, badminton and hockey skills. There are literally hundreds of rackets to choose from and you could even call in a tennis training aid for some extra practice. Even if you are not a beginner, this can still be a little bit overwhelming. We recommend ping pong paddles amazon for beginners, you will want to get a paddle that will allow you to consistently put the ball on the table.
For more information please visit: http://www.jumpgym.co.uk/