What stops you getting organised? I've been testing out the FizzyMilkJelly website to see if it will help me organised my life. FizzyMilkJelly is a site which offers all sorts of organisational tools, and if you take out a membership you can download lots of resources for no further cost.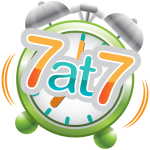 What we loved about FMJ
FMJ is a fun site, beautifully designed.
It has oodles and oodles of resource sheets to help you organise all sorts of aspects of your life.
We liked the free 7 day eCourse that helps you bite of small parts of your life to organise each day.
What was not so good?
We had a few problems with the eCourse coming through – there were several days of delay between the first and second daily emails.
You have to have some degree of organisation already  to make the most of the site.
I'd have liked to see a list for camping holidays (just because that's what I needed at the time!)
Overall verdict
Overall, we love FMJ. As a signed up stationary addict I relish the chance to print off lists and find funky folders. There are lots of freebies – try out the 7at7 programme or download a sample set of lists and see what you think for yourself.
Disclosure: I was given free membership to test out the website.